The Best PMP

®

Self Study Materials
Why to go and register at a training center and pay a lot of your money and get stressed with the studying schedule? Below, we have listed for you a number of the best self- learning PMP® tools and materials that will help you to pass your PMP® exam successfully. Also, you may use these resources as references at any point you feel a need to update yourself with latest PMP developments and news.

Get an "insiders view" of the actual PMP® Exam" and prepare with the PM Exam Simulator™. With first-hand experience of the environment and questions you'll encounter when you take the exam, you can raise your score, increase your confidence and be fully prepared to succeed. Don't get caught off guard on exam day. Prepare and practice in a realistic environment first.
---

The PM PrepCast is a PMP® Exam Prep Video Workshop that you download to your portable media player like an iPod, Blackberry or Zune. This gives you the freedom to study for the exam wherever and whenever you want. It is a complete PMP® exam study approach that increases your chance of passing the PMP® Exam. It will shorten your study time because it keeps you focused and you don't have to read dozens of other books to prepare. Watch the 42 hours of video from The PM PrepCast and you'll be ready to tackle the exam.
---
The PMP® Exam Formula Study Guide and Cheat Sheet is a complete approach to the PMP Exam formulas, values, and acronyms and you even get sample questions to test yourself on. It's your reference to all the math that you need to know in order to pass the PMP® Exam. You will receive more than just a list of the bare bones formulas as they are usually presented in PMP® prep books and on free PMP®prep websites. We'll explain the formulas, the concepts behind them and you'll learn how to interpret the results. And the 90-page PDF document with 105 Free PMP® Exam Questions then allows you to practice this deep understanding. Our Formula Study Guide contains the correct formulas and it is the authoritative source.
---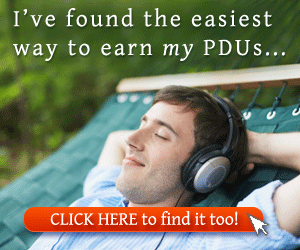 The PDU Podcast is a convenient way for PMPs and PgMPs to earn unlimited PDUs. Get project management webinars delivered to your iPod and earn at least 1 PDU every month. With The PDU Podcast(TM), there is no need to go to a classroom. You don't even have to sit at your computer. Instead, Enjoy the freedom of earning your PDUs anywhere. Simply download the webinars to your iPod and play them wherever you are. Your PDU Podcast(TM) puts you on autopilot for your re-certification. New webinars arrive monthly. Work the webinars into your schedule and not the other way around. Play them when you have the time.
---

The Agile PrepCast™ is a PMI-ACP® Prep Video Workshop that you download to your smart phone, tablet or laptop computer and watch whenever and wherever you want: On your commute to and from work, while doing housework, in the gym, during your lunch-break or back home as you relax on your sofa. The Agile PrepCast is your high-quality but low-cost alternative to attending a cumbersome classroom training. This is a complete PMI-ACP exam study approach that increases your chance of passing the Exam. Shorten your study time and still keep your focus. And you don't even have to read the recommended books to prepare. Watch over 21 hours of video from The Agile PrepCast and tackle the exam. It's that Agile! The Agile PrepCast also qualifies for 37 Category A PDUs for those who are already PMP certified.